2003: Hans-Joachim Irmler: Lifelike
Elements of Lifelike were first recorded for a museum exhibition about the Roman occupation of southern Germany, then reworked almost entirely for this release
ref: Staubgold
2003
CD
Staubgold
Staubgold 44
Released:
2003
Recorded:
2001-2003
Hans Joachim Irmler
Ralf Bei der Kellen: Lifelike
Staubgold
Hans-Joachim Irmler not only owns a cordless phone, but also a mobile!
Whenever I talked to him over the last weeks, it seemed that wherever he was, he had a version of Lifelike running in the background - in his house, at friends' houses, in his car (very often), and I suspect that once he even persuaded the owner of a pub to put it on. Why he did this? Certainly not to show off, because he is be nature a shy person. My guess is that he wanted to change the record by listening to it. He has been working for a long time on his first ever solo-outing, which also is - if I'm not greatly mistaken - the first official solo album of any of the original Faust-members ever to be released.
And it's a wonder really that it should come from Irmler. For if you've ever seen Faust play life, he' s probably the one who escaped your notice (visually, I mean). Because he's always hiding behind his wall of keyboards and ancient and new electronic gadgets which are so essential to the music of Faust. When I recently spoke to Arnulf Meifert, Faust's second drummer from the time of the first LP, he told me that when he first heard these recordings he thought that Irmler had been 'keyboarder of Faust' long enough and that it was time to emerge from that shadow.
Lifelike was conceived by Irmler as 'a biography in sound' (sounds like the title of a 'Best of James Last' Album, doesn't it? But even that may be part of a plan...). And it's strictly sounds, there are no words in here (at least none discernible). He wanted to describe a person's life through sound. And this is what fAUST have always been good at: to find strange and unusual sounds to trigger their listeners' imagination.
This record mirrors the growth of a human being in its microstructure and evolution of life in general in its macrostructure. At the beginning, the listener can hear the sounds of a bubbling primordial soup. Out of this, a simple, innocent theme takes a shy peek. A life is born. Melody evolves out of sound. This peaceful growth soon becomes interrupted by industrial noises (is there a war going on?) - and so we're already into the story after track 2.
What Irmler does is the antithesis of so many productions in the field of 'modern electronic music'. Irmler cunningly disturbs simple patterns and shifts them so slightly that at first, it only registers in your subconscious. Thus you are disturbed but you don't know by what. Another point in favour is that this music is nowhere as hectic as many other productions are nowadays with their clicks and beats. This music gives the listener time & space to step inside and if he or she wishes to inhabit this music. From the view of form, Lifelike even resembles classical music with its recurring and interwoven themes.
I suggest that - like its creator - you give this music a space to inhabit, to settle down in. This could be your living-room, but it really should be a garden, a forest or a lighthouse. Or let it inhabit your car. And should you happen to stand in front of a level crossing with the lights on red, do not be disturbed if Hans-Joachim Irmler calls you on your mobile. For that's also part of the plan.
Best wishes,
Ralf Bei der Kellen, "Lifelike", Staubgold 2003
ref: Staubgold
---
Ralf Bei der Kellen: Lifelike Sleevenotes
Staubgold
Hans-Joachim Irmler owns a cordless phone. This implies that he does not reserve time to call people, but that he will call whoever he wants to talk to in whatever activity he's involved in at any moment. He will call you from the vaults of his wine-cellar, from his studio, from outside his house (raking the dead leaves) or from the kitchen. More often than not he will exclaim 'Listen to this!' in the middle of a conversation. And then he will dumbfound his partner by playing scraps of a new production, by shaking a tree or letting a cat miaow into the phone's receiver.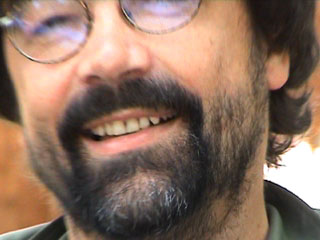 Thus the people he phones are admitted to (and vice versa become) a part of his every day life. And these people - if they are the receivers of more than one business-related phone-call - will soon discover that Irmler's life consists of sounds. For him, everything that makes a sound makes sense. It seems that for him, sound is life and life is sound.
So it made absolute sense to me when he told me (on the phone, how else!) that he had produced a solo album in the form of a fictional aural biography. Originally, the tracks on this album were produced for the soundtrack of a tour through a museum, which portrayed the life of Roman soldiers at the turn of the millennium from BC to AD in Upper Swabia, where Irmler lives. After the music was completed and the tour installed (which took place about a year ago), Irmler put the tracks aside and concentrated on recording bands in his Klangbad studio and on compiling the remix album Freispiel and the collage-like album Patchwork. After some time, he came back to the tracks he recorded for the museum and compiled them into an order which to him made sense. Having done this, he found out that he had produced something which in its form very much resembles the path through a life, with its slow start, its acceleration, its times of struggle, possibly even of war, its slowing down and in the end... well, who knows?
The sounds that are heard on this production he derived to a large extent from his collection of organs (which he, ever the mad scientist, never tires of modifying - his soldering iron is always on stand-by). He combined these with sounds from every-day life, so that - true to the old Dadaist spirit - he put art back into life (or vice versa). All of the sounds were recorded on analogue equipment and then distorted and alienated by Irmler - a procedure, which has always been central to his work: to take 'normal', ie. familiar sounds and transform them into new, unheard sounds. This technique he employed since the early days of Faust, where the band demanded in the contract with their record company that they were to have their own sound-engineer, who was to (and did) build them custom-made effect-boxes, so that they could link or distort their instruments and produce these unearthly sounds they wanted to explore and bring to the world like medieval explorers returning from a terra incognita and bringing with them never before seen plants and animals.
To me, the music on this album sounds like the soundtrack to one of those early German silent films about the Nibelungenlied or the guerrilla battle of Arminius, chieftain of the Cherusci, against the Roman centurion Varus' army in the impenetrable Teutoburg Forrest. In so far, Lifelike could be seen as a minimalist version of Faust's monumental Nosferatu-Soundtrack. Giving the organ and the individual sounds more space, this is a much more intimate version, almost a chamber music suite. After a time, one realises that certain themes appear again and again throughout the album, often in combination with other parts from the work.
But back to the cordless phone: Irmler also has the habit of calling people from his kitchen while preparing a meal. When I first heard this record, I was trimming Brussels Sprouts (and believe me, this album is an ideal soundtrack for that - as for many things in life). When I listen to it now, I find that the music is a bit like those small green vegetables: You strip one leaf away to find that it covered only part of the sprout. You scrutinise it and become aware of the intricate way in which these leaves are delicately fit into each other. In fact, I was so fascinated by these intricate patterns that I peeled away leaf after leaf. And I found that the pattern of the sprout's leafs mirrored the music's form. Thus my message is: Pay attention to the pattern. That's where the pleasure comes from.
I wish your ears a healthy appetite.
Ralf Bei der Kellen
Ralf Bei der Kellen, "Lifelike Sleevenotes", Staubgold 2003
ref: Staubgold
---
Fela Lewis: Lifelike
Lifelike has already been compared to the soundtrack to an old German silent film expounding on the glories of mythical Wagnerian Niebelung, and Irmler himself conceived it as a 'biography in sound'.
Both reference points are misleading, but not too far from the mark. Instead of Teutonic myths, Lifelike would be well served as the soundtrack to grainy, silent footage of the industrial awakening of the Eastern Bloc, and if this a biography, the smooth, transcendentally beautiful passages mark the life cycle of clouds, flowers and worker ants. Neither ambient nor truly experimental, Lifelike is more a journey through sound, at times it's almost not there, but it's always there, working in your subconscious. If ever a film director is looking to find his inner muse, he could do much worse than meditate in the world of Hans Joachim Irmler.
Fela Lewis, "Lifelike", Logo Magazine 2003
ref: Logo Magazine
---
Peter Marsh: Lifelike
Hans Joachim Irmler has spent a fair proportion of the last thirty three years playing keyboards in the mighty Faust. As far as I know this is his first solo record, and in fact it's the only Faust related solo effort I know of. Maybe that's no surprise; Faust (despite their shifting lineups) have always been governed by a communal spirit, and one where it's hard (or even beside the point) to pick out individual contributions.
What characterised Faust was their approach to studio technology; building their own bits of equipment or abusing others, they created a fantastically rich and entirely original noise. Irmler's solo music shows a similar level of invention, though the results are much different.
This music was originally recorded for a museum exhibition which recreated the lives of Roman soldiers based in Germany around the dawn of the 1st century AD. Irmler's re-ordered and reworked the tracks, and describes the resulting album as a 'fictional aural biography'.
While there are moments that could come straight off Faust IV (check the dirty gobs of distorted organ on Trepido), most of Lifelike is a bit more like the more pastoral landscapes explored by Cluster or Hans Joachim Roedelius. Even at its most delicate, Irmler's music never descends to the level of mere prettiness; hushed, fragile piano figures are interrupted by what sounds like someone hammering on the hull of a spaceship. Dirty spumes of noise are flecked with distant whipcracks, while the sound of thunder threatens a gently meandering organ passage (shades of Faust here too).
It's a highly individual, warm, glowing soundworld, and Irmler stitches it all together with a grace and organic continuity that makes you feel like you're being told a story. Or maybe even a fictional aural biography. Beautiful.
Peter Marsh, "Lifelike", BBC Music Online 2003
ref: BBC Music Online
---
Paul Donnelly: Lifelike
The whole Faust experience, for me, has always been about their collective identity and spirit as well as the fact that the sounds they have become renowned for are a joint effort, inseparable from each other in fact. Whilst Zappi Diermaier's titanic percussion may be an instantly recognisable feature many of the other sounds overlap and blend together so well that it is not possible to distinguish their source. Now the man who is very much responsible for many of those noises, though frequently hidden behind banks of keyboards, has come up with the first solo album from the Faust enclave. It's a bit of the whole, separated and left to see how it manages without the rest.
It does this it very well and anyone who has enjoyed Irmler's contribution to that unique aural experience will surely find this latest aspect of his work fascinating though, possibly in a different way. This doesn't possess the thrash and grind of the band's trademark but offers more tranquil soundscapes that merge seamlessly into each other.
You have to bear in mind that this music was conceived originally as a soundtrack for a tour through a museum depicting the lives of Roman soldiers in Upper Swabia as BC became AD. But it retains its own independent identity outside of the museum artefacts, even though there are some samples of soldiers marching and chanting scattered throughout the cd.
Whilst it doesn't have the visceral attack of a take no prisoners Faust recording there is an element of violence within the opening track. Elektroblitz, where metallic clashes resound over the washes and drones of Irmler's organ. I'm not certain what these tearing and wrenching sounds are meant to represent but they create an intriguing atmosphere to introduce the album. Similarly, the final track Werft! has sections of controlled noise that recall aspects of The Faust Tapes, in fact I'd swear there is an angle-grinder in there somewhere. However, it is more likely to be emanating from one of Irmler's 'modified' organs.
Atlantik also has some echoes of Faust as the swelling keyboards rise and reverberate recalling moments from earlier band recordings. The distorted organ sounds that hover eerily through Trepido have a similar resonance to certain Faust excursions too but without the other, often indefinable sounds the group make. Very little happens on the track yet it is immensely hypnotic.
I'm not sure what The Actor's Gone refers to but again disembodied sounds float and shift through an electronic miasma in a curiously gentle and comforting way. Tiny bell-like tolling is foregrounded against softly hissing metal and, once more, not a great deal is taking place. Irmler's intention may have been to build an unobtrusive but seductive set of sound pictures to accompany the museum display and if so it has worked. As you listen to the sometimes muted, sometimes shimmering keyboards it is possible to lose awareness of your surroundings and time. Parts of Kleine Welt and Trevo achieve this, in particular the latter, with its limpid droplets chiming and disappearing to make way for a more sinister wave of keyboard layers. Voices and marching sounds intrude before another weave of found noises and various textures of organ seamlessly expand to reveal other unearthly atmospheres.
Although the sonic violence is of a restrained nature Irmler can create tension and unease through a minimalist use of texture on tracks like Eis where the level of sound is quite low-key but distinctly threatening. It is like being led through uncharted country by a guide who says little but is entirely sure of the way the journey will progress. Those far off cries that sometimes filter through the rain may be disquieting but are simply another facet of an intriguing landscape.
LifeLike is, to my ears, an organic work that draws on the range of often unique sounds which the composer has developed over the years, from the early days in Wümme to more recent collaborations and remixes. It is a welcome and impressive solo debut that promises more explorations to come.
Paul Donnelly, "Lifelike", Tangents 2003
ref: Tangents
---
Andrew Culler: Irmler in the Brain
As the first solo record from any member of Faust, a band heralded as one of the great "collectives" in rock history, LifeLike is worth the wait not because it offers a glimpse back in time or even a fuller understanding of how Irmler's organ fit the Faustian puzzle. While the trained ear might recognize some of his distorted stabs and flourishes rising from the depths, LifeLike keeps any evidence of Faust's shambled pastures to a minimum, focusing instead on Irmler's sprawling textural achievements. He plays organ and keyboard through most of the disc, blending gritty, droning waves through slight passages of clean melodic playing and more impressive flights of erupting noise. To his already beautiful playing, Irmler adds a wealth of field recordings, often perfectly accompanying or mimicking his synthetic textures. The effect is close to a fusion of the vintage progressive synth sound of early Tangerine Dream with the more streamlined collage techniques of today. Pieces of rolling thunder, muffled conversation, city noise, and even tribal chanting add to the mystery of these sound vistas but never in a way that is alarming or disorienting. Everything inches back to Irmler's comfortable keyboard and treated organ swells, creating music that only becomes absorbing if allowed. Several motifs are repeated throughout, giving LifeLike a definite cinematic quality, especially recalling old science fiction soundtracks, something reinforced by the warm gloss coating the record. The occasional hammered pattern or distorted uprising is enough to bring the music back to the surface, but for the most part, LifeLike serves most effectively as the background to bouts of lucid daydreaming. I feel a smug pleasure that my experience with Irmler's work runs counter to that of Ralf Bei der Kellen whose indulgent essay makes up the liner notes to LifeLike. Der Kellen describes the music as a kind of aural biography that, through the act of documentation, helps listeners to hear ordinary sounds in new ways. For me, there is nothing so consciousness-grabbing or life-affirming in LifeLike, but I didn't ask for such things. Irmler has made a beautiful, consistent, and highly visual record that will hopefully not be his last.
Andrew Culler, "Irmler in the Brain", Brainwashed 2004
ref: Brainwashed