History of Faust
Faust
Faust, 1999
A chronology of the group released by Klangbad
1969: Zappi Diermaier, Hans Joachim Irmler, Arnold Meifert (all formerly of Campylognatus Citelli) and Jean Hervé Péron, Rudolf Sosna and Gunter Wüsthoff (all formerly of Nukleus) coincidentally meet in Hamburg and begin casually creating music together.
1970: The first demo tape for Deutsche Grammophon emerges from an old air-raid shelter in Hamburg's Sternschanze district. Thanks to journalist Uwe Nettelbeck's dedication, Polydor sets up a studio for Faust in an old schoolhouse in Wümme, a small village about 40 kilometers from Hamburg. A perfect setting for the band's experiments with music and sounds.
1971: The first album Faust is released. Autumn marks the band's first concert at Hamburg's Music Hall, which-due to technical difficulties-turns into an improvised happening.
1972:Spring sees the release of the second album So Far, which is substantially more song oriented than the first.
1973: Faust contacts the young, experimentally inclined record company Virgin, which supplies the band with a studio in a manor house near Oxford. There the experimental album The Faust Tapes is completed, which is placed in British record shops at the current price for a single (49 pence) and enjoys considerable commercial success. The first tour through France, England and Scotland as well as television and radio appearances (i.e. the John Peel Show) follow. The album "Outside The Dream Syndicate", recorded in cooperation with avant-garde artist Tony Conrad, is released.
1974:Faust IV is released in the spring. The band leaves Virgin and manager Nettelbeck due to their increasing demands for a say in musical decisions.
1975: After a one-year creative sabbatical, the material for a new album 5½ - most of which remains unreleased to date - is recorded in a Münich studio.
1990:Reunion concert at the Prinzenbar in Hamburg.
1992: Sold-out appearance at London's Marquee Club. The British press is ecstatic.
1994: Jeff Hunt of the Table Of The Elements label offers faust a US tour. There, they perform alongside several contemporary greats, including Thursten Moore, Tony Conrad, Jim O'Rourke and Keiji Heino. A concert in Californian Death Valley is the highlight of the tour. Faust records the album RienRien, brilliantly mixed by Jim O'Rourke, for Table Of The Elements.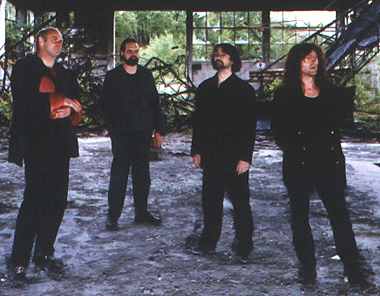 1995: Appearances in Europe.
1996: Faust founds its own label Klangbad. 25 years after their first album the sampler Untitled, containing previously unreleased material covering the entire time span of Faust's career, is released.
1997: The album you know faUSt is released in January on Klangbad. Once again, it features song oriented material "as defined by Faust". Large-scale German tour in April. Founding member Jean Hervé Péron leaves the band in May, shortly before a tour of France. Bass player Michael Stoll joins the band in July. Throughout the year, Faust gives several concerts of international notice, i.e. in Edinburgh, at the Herzberg Festival and in Japan. Work on Ravvivando begins in autumn. The two albums Edinburgh Live and Faust Wakes Nosferatu are simultaneously released in November. The latter is the result of an improvisation to F.W. Murnau's silent film "Nosferatu".
1998: January marks the issue of a vinyl release of Faust Wakes Nosferatu, including additional material from a Murnau improvisation. Faust performs in La Spezia (Italy), Tubingen (Germany), London, Dublin and Glasgow. In October, Faust is invited to London for John Peel Show tapings.
1999: Work on Ravvivando is completed in February. The album is due for release in May.
Faust, "

History of Faust

", Faust 1999, © Klangbad 1999