Scheer Studio
Faust have a acquired a beautiful factory space on the banks of the Danube in which to build a new Studio. The new studio will be in near the Klangbad offices in southern Germany, by Lake Constance.
The group are looking for volunteers throughout August willing to take part in a working holiday helping to build and decorate the studios.
You would need to bring yourself, a tent, sleeping bag and work clothes. A camp site and food, etc., will provided. We'd also ask that you be onsite for three days or more. As for how you get there - booking tickets in advance can be very cheap. I just visited and it cost £26 for a return fare with Ryan Air to Friedrichshafen, the nearest airport I think.
Skills required - anything and everything from building skills, wiring / studio tech skills, to cleaning and cooking.
Other skills required: boundless sense of fun, willingness to mix in, have a laugh, etc.
What's in it for you? Well, I'm sure we can make it great fun to be there and you'll have the chance to mix with other Faust-folk. Who knows???? Plus we will have endless possibilities for organising our own 'entertainment'. If you are interested at all in helping out, please let me know as soon as possible. I hope to have more details soon but, whatever the case, I look forward to having the chance to finally meet some of you out there....
think weisse bier, think pretzels
Contact: Scheer @ Klangbad
Images of work in progress, Brit invasion
Aftermath
After all the hard work, Jochen sent this message of thanks to all 'Scheer Heads'.
Hello to all you Scheer-Heads out there,
a glass of red wine stands in front of me. Outside it's getting colder, the sun is getting weaker so now's the time for some good red wine after all that summery beer-drinking we did at Scheer and Dürmentingen. I think I do not exaggerate when I say that I am on the verge of spilling a tear into my wine when I think of that time. Now that most of the basic (re)construction work is done and things go back to 'normalcy' (whatever that might be) here in Dürmentingen, I realise how precious the time has been we've spent together working. And like the sun that is receding from us and whose rays are still there but not as warm as before, the presence of all those who have helped set up the Studio at Scheer is only slowly fading. But you can be sure that your participation will never be forgotten and that all of you who helped build that place will have a special place in its memory. Your spirit will pervade these walls. Even if only a small percentage of the energy you brought to the place and the fun we had there will linger on in these walls, I am sure it will be nigh on impossible to make a bad recording there. I may sound a bit sentimental, but those weeks you helped us built the Studio were as close as I ever got to something like a 'religious experience'. And from what I've captured on video as your farewell statements I'm sure that some of you the same (or at least similar). It was an experiment which I never in my boldest wishes dreamed of coming true in this big way. We achieved so much and we had such a good time. So I'd really like to thank all of you who helped build the studio - and of course, I have to thank you more than words can say. I was delighted. I was amazed. That so many people would come to lend a hand for free was totally unexpected. Thanks very much to those people who came from far away to share (nomen est omen) their (sometimes precious) time with us. Special thanks are due to S/T for their spontaneous (and outrageous!) performance in the garden at Dürmentingen. They really made my night.
As I said before, my gratitude is beyond words. Without you, we couldn't have done it. So best wishes and thanks from Cornelia, me, the rest of faust and all past, present and future Klangbad-artists. May your spirit fill these rooms.
Cheers,
Jochen
| | |
| --- | --- |
| | Scheer - from an airship launched from the local Friedrichshafen airport, home of the Hindenburg |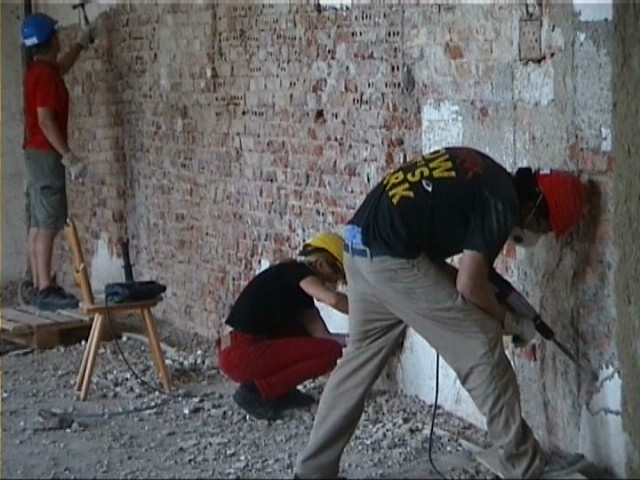 Work starting at Scheer