Second Klangbad Festival, Scheer, August 12 - 14, 2005
Klangbad Press Release, July 2005
It is due to Hans Joachim Irmler (founding member of Faust) and Cornelia Paul (managing director of the independent record label Klangbad) that the tiny little Schwabian town Scheer for the third consecutive year becomes the Mecca of the European off-music scene. Under Irmler's direction and with the support by international Faust fans a high tech recording studio was created in Scheer. The studio allows high quality production under the best professional conditions.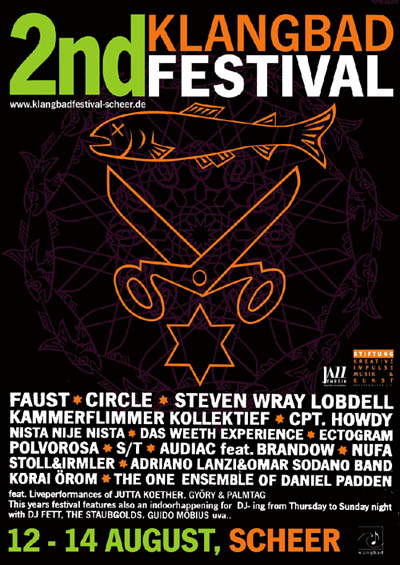 The first edition of 'Klangbad Festival at Scheer' could be seen as the official opening party for the new studio. This time Irmler and Paul are looking for a new challenge by trying to take the happening to the next level and establish a unique music festival with a top-class program. With Faust as the leading act, for three days the most diverse current musical tendencies will be brought together at an international level. Bands will be performing open air on the festival stage and indoors at the newly created festival club.
The German band Faust, active since the early 70s, is considered precursor of an anarchic and free spirited underground music culture at the intersection of krautrock, beat, industrial and avant-garde. This musical spirit serves as the leitmotif for all releases by the band owned Klangbad label. And it is the bands on Klangbad that will form the core of this year's festival. The spectrum stretches from Can-influenced minimal Finnish rockers Circle and the Hamburg power beat formation Captn Howdy, featuring Faust member Lars Paukstat, to the multinational women quartet Nista Nije Nista, a band that surprises with a blend of poetic voice experiments and digital sound aesthetics. The Frankfurt duo S/T for years has moved sublimely between lo-fi psychedelic, post punk and drum box wave, while Stuttgart based Audiac live and on record create bittersweet melancholic moments between pop and avant-garde. 'Schrammel' guitars and poppy electronic with a certain Mediterranean touch: that is the trademark of Italian Adriano Lanzi and Omar Sodano Band. Local band NUFA are trying to capture the perfect wave within the new German pop euphoria.
Faust's lineup at Scheer will be: Hans Joachim Irmler (keyboard instruments), Steven Wray Lobdell (guitar), Michael Stoll (bass), Lars Paukstat (noises) and - sensation! - ARNULF MEIFERT (drums). Meifert lives in Munich and was a founding member of Faust and will share the stage with Faust for the first time after 30 years. Furthermore Steven Wray Lobdell and Stoll and Irmler will present their respective solo projects.
Top-class guests add to the program, among them, electro industrial cult band Das Weeth Experience. Friends at Berlin based label Staubgold will send an entire delegation of their bands: acclaimed Karlsruhe jazz formation Kammerflimmer Kollektief, the Australian electronic duo Minit and the DJ team The Staubgolds (Markus Detmer and Tim Tetzner). More DJs and live acts will be performing during the three day festival at the festival club like, among others, the legendary Konstanz DJ Fett aka Christoph Linder.