Untitled Sleevenotes
Hans Joachim Irmler
Klangbad, 1996
We met 1969 for the first time in Hamburg in the 'sternschanzentunnel'. The rehersal room was a kind of narrow tube where we had to line up along the wall: Arnulf Meifert, Gunther Wüsthoff, Rudolf Sosna, Hans-Joachim Irmler, Jean-Hervé Péron and Werner 'Zappi' Diermaier.
Here we recorded our demo tape for the 'Deutsche Grammophon' which included stream-rams and live takes of manifestations. We were aiming for a situation where communal living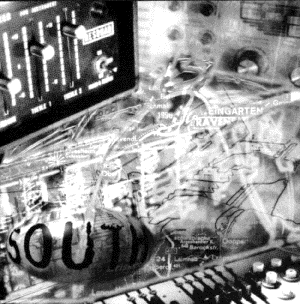 and productive experiments could be combined. Uwe Nettelbeck was the go-between with the music industry.
We were hungry so each of got 1.000 DM to buy a meal in some cheap restaurant. Furthermore he organised an old schoolhouse somewhere in the sandy plains of Luneburg. There we lived together and the Deutsche Grammophon equipped us with a recording studio and a recording engineer (Kurt Graupner), day and night. A year later we were urged to complete the first LP.
Jean-Hervé and Zappi each had a dog. The other members refused to have breakfast together with the dogs. Therefore Jean-Hervé and Zappi built a hut where they lived with their dogs. This fact forced us to perform, against all expectations, our first concert, Autumn '71, Hamburg Musik Halle. We liked it very much although we didn't actually get to play.
As the dogs greatly reduced the number of chickens living in our vicinity we had to release the second LP. We didn't want to sell in Egypt only but in the UK. We completed the third LP. In 1973 we changed the record company to Virgin. This got us to tour through France and the UK. We even had to eat there. These circumstances had a great impact on our music.
We then moved to the UK and produced the fourth album at the Manor. After one year we couldn't stand it any longer so we moved to Münich to recover. There we recorded the fifth LP at the Arabella studio.
Hereafter we had children. Secretly we practiced.
Now - since 1990 - we are back and on : Zappi, Jochen and Jean Hervé. We released to live and one studio CD. We performed all over Europe and the USA - free and at ease.
Hans Joachim Irmler, "

Untitled Sleevenotes

", Klangbad 1996, © Klangbad